Considerations for the GSB: An Historic Icon

Read the Coordination Plan for Agency and Public Involvement in support for the development of the Supplemental Environmental Impact Statement (SEIS) for the General Sullivan Bridge.
Reminders of New Hampshire's historic past can be found across the State—including in our bridges and roadways. The General Sullivan Bridge is among such icons. Since 1934, this distinctive structure has united the Town of Newington with the City of Dover at the confluence of Little Bay and the Piscataqua River. Although the bridge no longer carries vehicular traffic, it still offers several uses to the public—it provides a critical connection for pedestrians and bicyclists, and recreational fishing areas are located near each end. For these reasons, the General Sullivan Bridge is important to maintaining the vibrancy of these communities.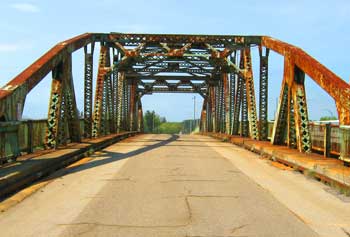 As part of the Spaulding Turnpike Newington-Dover Project, the New Hampshire Department of Transportation is planning to rehabilitate this bridge. The project will improve its condition and structural capacity, as well as ensure the structure can meet the needs of the seacoast community for years to come. The road to rehabilitating the General Sullivan Bridge is complex, however. It begins with detailed inspections of the structure to assess and quantify the condition of all the bridge components. The Department will then carefully evaluate rehabilitation options, taking into consideration the cultural significance of the bridge, as well as its functionality, durability, and maintenance requirements. The selected alternative will then be advanced to final design and construction.
Throughout the process, the Department is committed to engaging the public and other stakeholders. Working together, we will not only enhance and improve the transportation network for all users—but we will have successfully concluded one of the largest transportation projects in the State of New Hampshire.