Section 106 Consultation

Section 106
In the National Historic Preservation Act (NHPA) of 1966, Congress established a comprehensive program to preserve the historical and cultural foundations of the Nation as a living part of community life. Section 106 of the NHPA, as amended (16 U.S.C. 470f), is crucial to that program, because it requires consideration of historic preservation in the multitude of Federal actions that take place nationwide and throughout New Hampshire.
Under Section 106, Federal agencies are required to consider the potential effects of their undertakings on any "district, site, building, structure, or object that is included in or eligible for inclusion in the National Register." Federal agencies must also identify and coordinate with the appropriate State Historic Preservation Officers (SHPO) and Tribal Historic Preservation Officers (THPO), who have jurisdictional responsibility for the Section 106 review process. The purpose of consultation is to seek ways to avoid, minimize, or mitigate any adverse effects to historic properties, and to incorporate the results of that consultation into a Memorandum of Agreement (36 CFR 800.6).
General Sullivan Bridge and the Section 106 Process
As part of the larger project to improve the Spaulding Turnpike in Newington and Dover, the NHDOT and its consultant team completed a Final Environmental Impact Statement (FEIS) in 2007. Following issuance of the FEIS, NHDOT determined that rehabilitation of the General Sullivan Bridge would be challenging and determined that a re-evaluation of alternatives for the General Sullivan Bridge was appropriate. NHDOT is now updating the FEIS with a Supplemental Environmental Impact Statement (SEIS) to consider other solutions to provide a connection for non-motorized travel between Newington and Dover. Because the General Sullivan Bridge is eligible for listing in the National Register of Historic Places, the decision-making process must comply with Section 106 of NHPA.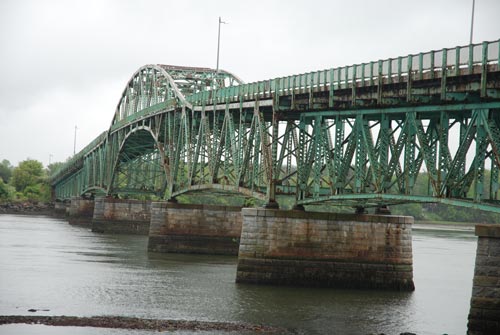 Consulting Parties in the Section 106 Review Process
Public involvement is a key part of successful Section 106 consultation. Individuals and organizations who demonstrate interest in the Section 106 process (such as local governments, historical commissions, or residents) are invited to participate and provide input on a project. The Section 106 Consulting Party Process in New Hampshire brochure provides additional information on how consulting parties may engage in and participate fully in the Section 106 process in New Hampshire. As stated in the Section 106 brochure, "Consulting parties are entitled to share your views, receive and review pertinent information, offer ideas, and consider possible solutions together with the Federal agency and other consulting parties."
For the Newington-Dover General Sullivan Bridge Project, the New Hampshire Division of Historical Resources is the SHPO, and the Federal Highway Administration is responsible for approving requests for Consulting Party status. Interested persons or organizations may request Consulting Party status from FHWA:
Jamie Sikora
Environmental Program Manager
Federal Highway Administration NH Division Office
53 Pleasant Street, Suite 200
Concord, NH 03301
Jamie.Sikora@fhwa.dot.gov
As of February 22, 2019, the following consulting parties have been identified and approved by the Federal Highway Administration: